Hello Fellow Rebels!
No doubt, many of our readers are on their way back into the school halls, with heavy backpacks full of textbooks. The mind-bending snowfall of homework has also started. Already, many of us wish to escape back into the realms of fiction!
What better time to dive into the intelligence box and check out some book reviews?
These reviews were placed in our Contact Form between Feburary - September 2018 by our ever loyal book scouts. Our fervent thanks go to them!
Shall we take a peek?
Entwined
Author: Heather Dixon
Language: ☆☆☆☆☆
Abuse: ☆☆☆☆☆
Lust: ☆☆☆☆☆
Review of the Book: ☆☆☆☆☆
There are lot of different Twelve Dancing Princess stories. That they're cursed, usually through their mothers doing. But in this one, the princesses just LOVE to dance. They dance when one of them is sad to make them happy and they dance when they're already happy...and now they want to dance to remember their mother, the queen, who has died. But the kingdom is in morning and they CAN'T dance. So when they find a secret room, they unwittingly get themselves into a lot of trouble.
I really liked this book because of the close bond between the sisters, who are all named after flowers AND IN ALPHABETICAL ORDER! (Which makes it easier to tell who is who.) All the sisters have different personalities, which I loved. And speaking of things I loved, I liked the romantic pairings in this book. A lot. They're all so perfect!
The closest you get to any swear words in the second sister (Bramble) who reminds me a lot of Jo March. I don't remember any exact words she says...but they were more along the lines of "Hang it all" or "Blast." And the princesses were abused to some extent by the villain the book (emotionally at the least) but it was viewed in a bad light.
I highly recommend you add Entwined to you TBR!
Reviewed by: Natasha Hart
Natasha Hart is a 19 year Ravenclaw and old lover of rain, music, books, and poetry. She is also an amateur writer and author of the blog,
The Natasha Hart
. She is happiest when she has a warm mug of tea and an old book on a rainy day.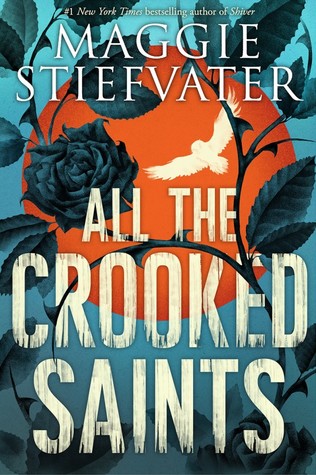 All the Crooked Saints
Author: Maggie Stiefvater
Language: ☆☆☆☆
Abuse: ☆☆☆☆☆
Lust: ☆☆☆☆
Review of the book: ☆☆☆
*abbreviated from inside cover*
Here is a thing everyone wants: a miracle. Here is a thing everyone fears: what it takes to get one. Any visitor to Bicho Raro, Colorado, is likely to find a landscape of dark saints, forbidden love, scientific dreams, miracle-mad owls, estranged affections, one or two orphans, and a sky full of watchful desert stars. At the heart of this place you will find the Soria family, who all have the ability to perform unusual miracles. And at the heart of this family are three cousins longing to change its future: Beatriz, the girl without feelings, who wants only to be free to examine her thoughts; Daniel, the Saint of Bicho Raro, who performs miracles for everyone but himself; and Joaquin, who spends his nights running a renegade radio station under the name Diablo Diablo.
They are all looking for a miracle. But the miracles of Bicho Raro are never quite what you expect.
*my thoughts*
After reading the Raven Cycle, I was surprised by this book. It was cleaner than the Raven Cycle, with only a few curse/interesting words and clean romance. The concept of "All the Crooked Saints" is intriguing, but a little weird. It is definitely magical, in a sense, and the way Stiefvater combined Catholicism (saints, etc.) with miracles might be off-putting to some.
I liked the characters and premise and enjoyed this book (to an extent), but I also was a little uncomfortable with the portrayal of religion and miracles. Therefore, I grappled with giving this book four or three stars, but eventually decided on three. If possible, I would give it 3.5 stars. :))
*the title is awesome, though, and the cover is really pretty :))*
Review provided by: Allison
Hi, I'm Allison. I am very excited to write for Rebellious Writing, as I feel that in today's society, the concept of "good" literature for teens and young adults has become twisted. I hope that my reviews will help others find great books to read, and I look forward to seeing other recommendations!
Jane of Lantern Hill
Author: Lucy Maud Montgomery
Language: ☆☆☆☆☆
Abuse: ☆☆☆☆☆
Lust: ☆☆☆☆☆
Review of the Book: ☆☆☆☆☆
Jane lives a cheerless life, raised by her mother, grandmother, and maiden aunt in a gloomy, hostile old mansion. Her mother loves her, so at least she has that, but she's constantly squelched and belittled by her grandmother and aunt. Then her life changes forever -- and decidedly for the better -- when her estranged father sends for her, and she spends her summer with him on Prince Edward Island, where she becomes a real person instead of a scared little shadow.
This book is a lovely look at a young person learning to think and act for themselves, yet still striving to honor both of her parents and be obedient to them. Jane is in a hard position, caught between two parents who both love her, and whom she loves, and uncertain how to speak about them to each other without hurting either of them. She consistently works to please both of them while blossoming into her own person at the same time.
It's also got an interesting bit of meditation on how parents shouldn't get so wrapped up in their children that they neglect their spouses. And also that spouses shouldn't get jealous of the way their spouse loves their child. I would have liked to see that developed even more, but what was there was very nicely done.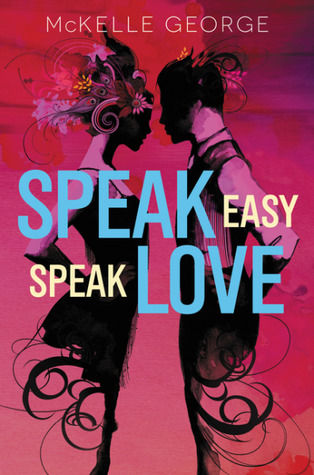 "Speak Easy, Speak Love"
Author: McKelle George
Language: ☆☆
Abuse: ☆☆☆☆
Lust: ☆☆☆☆
Review of the Book: ☆☆☆☆☆
This is a YA retelling of Shakespeare's "Much Ado About Nothing" set in the Prohibition Era just outside New York City. But it's much more than just a transportation of the characters to a new setting. It takes the basic premise of the play -- can two people who verbally spar and butt heads be convinced to fall in love? -- and runs with it.
Beatrice here is a strong-willed, strong-minded young woman who gets kicked out of school and winds up at her cousin Hero's home, hoping her uncle and cousin will take her in. She doesn't know it until she gets there, but they run a speakeasy called Hey Nonny Nonny in their basement. Benedick is living in their house too, having run away from school with his friend Claude because... they can.
Then there's Maggie, a jazz singer and Hero's dear friend who provides the entertainment for the speakeasy. And there's Prince, who tends bar for Hey Nonny Nonny, and his brother John, who is... not a Good Guy, but still a good person deep inside. John ties with Beatrice for my favorite character, I think.
Claude and Hero get all infatuated with each other. Federal agents try to close down the speakeasy. Hero and Maggie try to convince Beatrice and Benedick they love each other even though they spend basically every waking moment annoying and being annoyed by each other.
And if that sounds kind a fluffy, trust me, this book is deeper than I'm making it sound. It's got all kinds of stuff about race and class differences and ethics, not to mention some Very Wonderful character explorations. And then there's the writing! Snappy, insightful, witty, and profound by turns.
Note from the RW Team: So no one freaks out, Hero is a girl!
Reviewed by: Rachel Kovinchy
Rachel Kovaciny lives in Virginia with her husband and their three homeschooled children. She has independently published her book "Dancing and Doughnuts" this fall, a western re-imagining of "The Twelve Dancing Princesses." In her free time, Rachel writes for the online magazine Femnista, reads, bakes, blogs, watches movies, and daydreams. You can check out Rachel's blog
HERE
.
The List
Author: Patricia Forde
Language: ☆☆☆☆☆
Abuse: ☆☆☆☆
Lust: ☆☆☆☆☆
Review of the Book: ☆☆☆☆
The List is one of those books that makes you think, whether you like the book or not. It's dystopian, though people think they're living in a utopia. Some themes seemed to be taken out of the Biblical story of Noah's Ark, but made into an unBiblical retelling. Some might not enjoy that part, but it was loosely based and I don't know if the author is Christian. There were some other themes such as global warming that I didn't agree with, but the book itself had lots of adventure and was clean. Even the characters that liked each other didn't show large amounts of affection. There was violence and death, so despite the middle grade possibility, I would say 14 and up, depending on your maturity level.
Words//Dystopia//Hope//Freedom//Fighting for What You Believe in//Words Matter
Reviewed by: Ivie Brooks
Ivie Brooks is a Jesus loving, dragon riding, book reading, sweet tea drinking writer who wishes to portray life in all its ups and downs. Writing characters that have realistic feelings is important to her, as is making the story raw and vulnerable. Ivie lives in the south and is a southern girl at heart. She hopes to run a business of her own and be her own boss, all the while self-publishing books every few months. You can find Ivie at her website,
iviewrites.blogspot.com
and you can see her book reviews over at Goodreads.
And that concludes the report!
For those who wish to know more about these books and/or add any of these books to their TBR, just click on the book title. It will bring you to the book's Goodreads page!
Would you like to be a book scout? Check out the Collaborate page under the Mission header! We look forward to receiving more intelligence from y'all!