There is nothing more comforting than a blanket, a hot drink and a large book.
If you talk to a lot of bookworms, a lot will probably agree that winter is the perfect time to catch up on the TBR pile.
Well, RW is here to help with that - whether to grow or shrink it. These book suggestions were placed in our Contact form between November 15, 2017 - January 30, 2018 by our loyal book scouts! We cannot thank you Scouts enough for these book suggestions!
Let's take a peek, shall we?
The Sidekick's Tale
Author: Elisabeth Grace Foley
Language: ✩✩✩✩✩
Abuse: ✩✩✩✩✩
Lust: ✩✩✩✩✩
Review of the Book: ✩✩✩✩✩
From the quirky,outrageous characters to the hints of romance, this book kept me thoroughly entertained. I dearly love to laugh, and this book made me laugh aloud time and again. It reminded me so much of a screwball comedy from the 1930s and '40s -- you know, the kind with an impossible situation that just keeps getting worse and worse until everyone gives up all hope of ever extricating themselves, and then somehow, everything turns out okay in the end.

Meredith Fayett is a pretty young woman who inherits a ranch, but it's deeply mortgaged, and she soon learns she's going to lose her land if she can't pay down the loan. She could use money her parents left her to pay off most of the mortgage, but she can't touch that until she turns 21... or gets married. So, she sets about getting married to one of the men who works on her ranch, Chance Stevens. Strictly as a business proposition, of course -- the most physical contact they ever exchange is the handshake they give each other instead of a kiss at the end of the wedding. Happily for Meredith, Chance is an honorable gent, and he promises that as soon as she's got her money, he'll cooperate in getting their "marriage" annulled.

But I'm leaving out the sidekick/narrator, Marty Regan. He loans the couple an heirloom ring to get married with, only it turns out that his large and idiosyncratic family has been feuding amicably for years over who that ring actually belongs to. And that's where most of the comedy comes in, as Marty and Chance go through a great deal of rigmarole to try to get that ring back and figure out who it really ought to go to.
Reviewed by: Rachel Kovaciny
Rachel Kovaciny lives in Virginia with her husband and their three homeschooled children. She has independently published her book "Cloaked" this fall, a western re-imagining of "Little Red Riding Hood." In her free time, Rachel writes for the online magazine Femnista, reads, bakes, blogs, watches movies, and daydreams. You can check out Rachel's blog
HERE
.
The Blood Race
Author: K.A. Emmons
Language: ✩✩✩
Abuse: ✩✩✩✩
Lust: ✩✩✩
Review of the Book: ✩✩✩✩
The Blood Race takes place in modern California and a sci-fi fantasy world called the Dimension. Following the life of anomalies, called sliders, who have been handpicked to save the world. There is some swearing and while its not completely shown as bad, it is later made a rule that there should be no swearing. Also, some lustful behavior and a brief make-out scene. Very good book for action and adventure, though I would say definitely for older teens and young adults as there are some heavy topics of one character's past.
Reviewed by: Ivie Brooks

Ivie is a storyteller who enjoys weaving words together to make something amazing. She is passionate about realistic books that show the darkness of the world without using swear words. She blogs about her writing experience and How to Train Your Dragon over at iviewrites.blogspot.com.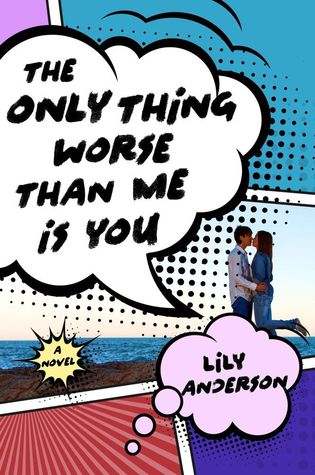 The Only Thing Worse Than Me Is You
Author: Lily Anderson
Language: ✩✩✩
Abuse: ✩✩✩✩✩
Lust: ✩✩✩
Review of the Book: ✩✩
Abbreviated from inside cover: Trixie Watson has two very important goals for senior year: to finally save enough to buy the set of Doctor Who figurines at the local comic-book store and to place third in her class and knock Ben West down to number four. Trixie will do anything to get her name ranked over Ben's, including give up sleep and comic books--well, maybe not comic books, but definitely sleep. After all, the war of Watson vs. West is as vicious as the Doctor vs. Daleks, and it goes all the way back to the infamous monkey bars incident in first grade. The war is Trixie's for the winning, until her best friend starts dating Ben's best friend and the two are unceremoniously dumped together and told to play nice. Trixie and Ben slowly start to form a fandom-based tentative friendship, until Trixie's best friend is expelled for cheating.

My thoughts: I love all the geekiness and nerdiness in this book, and that it's not portrayed negatively or made fun of. However, there is a lot of heavy language and dirty jokes thrown in. There is also romance, but nothing beyond kissing. (isn't the cover awesome :D)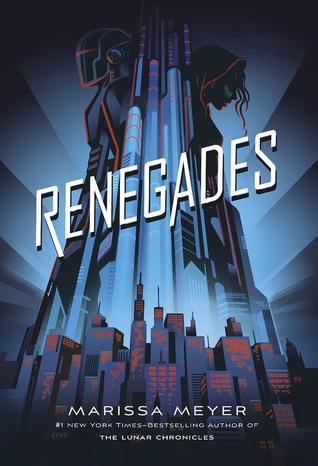 Renegades
Author: Marissa Meyer
Language: ✩✩✩✩
Abuse: ✩✩✩✩✩
Lust: ✩✩✩✩
Review of the Book: ✩✩✩
From Goodreads: Secret Identities. Extraordinary Powers. She wants vengeance. He wants justice.

The Renegades are a syndicate of prodigies—humans with extraordinary abilities—who emerged from the ruins of a crumbled society and established peace and order where chaos reigned. As champions of justice, they remain a symbol of hope and courage to everyone...except the villains they once overthrew.

Nova has a reason to hate the Renegades, and she is on a mission for vengeance. As she gets closer to her target, she meets Adrian, a Renegade boy who believes in justice—and in Nova. But Nova's allegiance is to a villain who has the power to end them both.

My thoughts: I LOVED this book. I absolutely adore superheroes, etc., and while I wasn't a fan of the Lunar Chronicles, I absolutely loved this book. HOWEVER, there are some issues. Two male characters (not the main characters) are in a relationship, and while there isn't emphasis around it, it portrays it as normal or beneficial (if that makes sense). That is why I gave it three stars instead of four. There's also some suggestive comments, but, relatively no language (please correct me if I'm wrong--the book is mammoth so I'm having trouble remembering the details :D). All in all, great plot and characters, but definitely content warning.
CONTENT WARNING FROM THE RW TEAM
: Several RW supporters have also read this book, and reviewed it poorly because the homosexual relationship in this book is viewed as a positive and a fairly prominent part of the book. See Faith Thompson's
Goodreads review
for more details and additional content warnings.
Reviews provided by: Allison

Hi, I'm Allison. I am very excited to write for Rebellious Writing, as I feel that in today's society, the concept of "good" literature for teens and young adults has become twisted. I hope that my reviews will help others find great books to read, and I look forward to seeing other recommendations!
And that concludes the report!
Would you like to be a book scout? Check out the Collaborate page under the Mission header! We look forward to receiving more intelligence from y'all! Also, check out our Goodreads group - we've *finally* got a discussion folder started for Book Reviews!